Blog
The Green Hydrogen COP
Green hydrogen was front and centre at COP27. Judging by the policies announced, deals struck and sheer number of dedicated sessions in Sharm El-Sheikh, green hydrogen was undoubtedly one of the bright spots at COP27 over the last two weeks.  
Host country Egypt made green hydrogen a linchpin of its presidency. It devoted a session to green hydrogen during the World Leaders segment at the beginning of the conference. On Energy Day, multiple green hydrogen sessions were organised by Egypt and the country announced an incredible eight framework agreements to develop green hydrogen and ammonia projects, aiming to win 5% of the global market by 2040.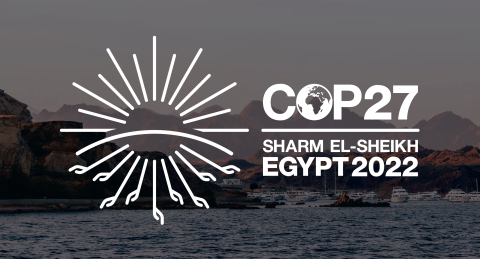 Development finance steps up 
This was of course an African COP with an important focus on low and middle income countries. At Finance day, GH2 launched the report Development finance for the green hydrogen economy: priority actions for development finance institutions noting that these key actors have now signaled their readiness to work with industry and host and donor governments to finance and enable large scale green hydrogen projects. There were also some significant announcements made by the DFIs on green hydrogen at COP27 which we have listed here such as KfW's PtX Development Fund and PtX Growth Fund. 
Food security 
Food security is a key concern in these countries. It was great to see Kenya and Fortescue Future Industries sign a Framework Agreement to fast-track Kenya's development of an affordable green fertiliser supply chain and other green hydrogen-based industries and its derivatives.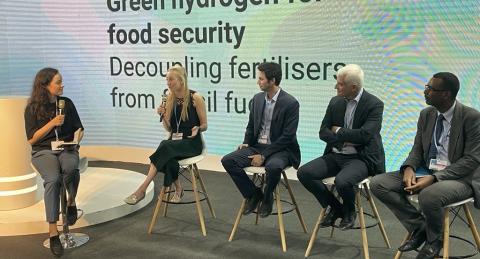 Shipping and green hydrogen 
Green hydrogen as a fuel for shipping is a clear area where demand for the green molecule is set to be enormous and we were happy to sign a joint statement committing to the rapid and ambitious production and use of low-carbon fuels based on green hydrogen to accelerate decarbonization of global shipping.  
The Planning for Climate Commission 
We need to be laser-focused on removing the bottlenecks to a flourishing large scale renewable and green hydrogen economy. Delays to planning and permitting is one of those areas so we launched the Planning for Climate Commission together with other renewable energy groups. The commission is made up of leaders from government, civil society and industry which will make key recommendations next year on how to accelerate planning processes.  
As Mads Nipper, CEO of Ørsted and one of the new commission members said "The world needs green energy – fast – to beat its fossil addiction. Yet, today it often takes longer to plan and permit a wind farm than to build it. In seeking ways to shorten the consenting processes for renewable energy, this commission is taking on a crucial challenge."  
Stronger together  
We all need to work together to build the green hydrogen economy. A great example is the Africa Green Hydrogen Alliance (AGHA) which we support. The AGHA countries made up of Egypt, Kenya, Mauritania, Morocco, Namibia and South Africa published a report noting that GDP in these countries could rise by 12% if adequate investment on green hydrogen of $450-$900 billion is made between now and 2050. 
Speaking of alliances, global industry organisations representing Wind, Solar, Hydropower, Green Hydrogen, Long Duration Energy Storage and the Geothermal energy industries officially joined forces under the banner of the Global Renewables Alliance with the signing of a Memorandum of Understanding at COP27.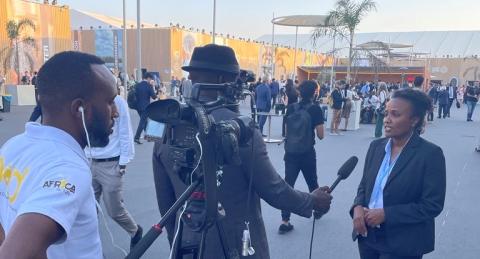 Taking civil society and local communities with us 
With many private sector deals and government announcements, we worked hard at COP27 to underline the importance of engagement with civil society and local communities who will be key to ensuring there is a social license for green hydrogen where it is produced. This is also central to our work on the Green Hydrogen Standard and Good Green Hydrogen Contracting.  
There are too many events and announcements on green hydrogen at COP27 to include in this short message, but we have complied a list here which we continue to add to – please let us know what we have missed!